Staves
Physical Damage:
55-165
Critical Strike Chance:
6.2%
Attacks per Second:
1.15
Weapon Range:
13
Requires Level
58
,
99
Str,
99
Int
+18

% Chance to Block Attack Damage while wielding a Staff
+2

to Level of Socketed Minion Gems
Minions deal

(60–80)

% increased Damage


+1

% Chance to Block Attack Damage per Summoned Skeleton


2

% increased Attack and Cast Speed per Summoned Raging Spirit
Regenerate

0.6

% of Life per second for each Raised Zombie


30

% increased Mana Regeneration Rate per Raised Spectre
"They spent a lifetime in the service of God,
only to spend eternity in the service of me."
- Kadavrus, Surgeon to the Umbra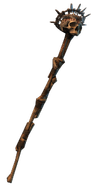 Delivery time: within 1 hour.



Femurs of the Saints is an item in Path of Exile.
If you have any questions, ask us on 24/7 live chat!
We usually keep stock of Femurs of the Saints.