Two Hand Axes
Physical Damage:
121-189
Critical Strike Chance:
5%
Attacks per Second:
1.05
Weapon Range:
13
Requires Level
58
,
151
Str,
43
Dex
(100–140)

% increased Physical Damage


+20

Life gained on Kill


+(150–250)

to Accuracy Rating
Culling Strike
Gain 1 Rage on Critical Hit with attacks, no more than once every

0.5

seconds
Gain

1

% of Physical Damage as Extra Fire Damage per 1 Rage


(Culling Strike means enemies that are on 10% or lower life after your Hit are Killed)


(Inherent effects from having Rage are:
1% increased Attack Damage per 1 Rage
1% increased Attack Speed per 2 Rage
1% increased Movement Speed per 5 Rage)
One by one, Kaom slaughtered the weakest tribe
leaders until the others leapt to join his cause.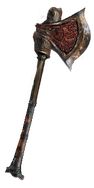 Delivery time: within 1 hour.



Kaom's Primacy is an item in Path of Exile.
If you have any questions, ask us on 24/7 live chat!
We usually keep stock of Kaom's Primacy.