Two Hand Axes
Physical Damage:
90-122
Critical Strike Chance:
5%
Attacks per Second:
1.4
Weapon Range:
13
Requires Level
66
,
140
Str,
86
Dex
(190–240)

% increased Physical Damage


(7–12)

% increased Attack Speed


(30–40)

% increased Critical Strike Chance
Nearby Allies have

30

% increased Item Rarity
Nearby Allies have Culling Strike
Insufficient Mana doesn't prevent your Melee Attacks
Nearby Allies have

+50

% to Critical Strike Multiplier
Nearby Allies have

+10

Fortification


(Culling Strike means enemies that are on 10% or lower life after your Hit are Killed)




(Take 1% less Damage from Hits per Fortification. Maximum 20 Fortificaiton)
A King and his people are linked together
like a soul and a beating heart.
Both can be severed by a same edge,
then forged anew.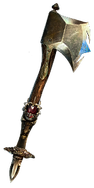 Delivery time: within 1 hour.



Kingmaker is an item in Path of Exile.
If you have any questions, ask us on 24/7 live chat!
We usually keep stock of Kingmaker.