Bows
Physical Damage:
20-78
Critical Strike Chance:
5%
Attacks per Second:
1.45
Requires Level
66
,
212
Dex
(20–24)

% increased Elemental Damage with Attack Skills
(150–175)

% increased Physical Damage
Adds

(6–12)

to

(20–32)

Physical Damage


(10–20)

% increased Attack Speed


+(80–100)

to maximum Mana
Hits can't be Evaded
Far Shot


(Projectile Attack Hits deal 20% less Damage to targets at the start of their movement, dealing up to 60% more Damage to targets as the projectile travels farther)
"See without doubt, slay without hesitation."
- Marceus Lioneye of Sarn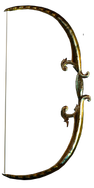 Delivery time: within 1 hour.



Lioneye's Glare is an item in Path of Exile.
If you have any questions, ask us on 24/7 live chat!
We usually keep stock of Lioneye's Glare.