Two Hand Axes
Physical Damage:
49-73
Critical Strike Chance:
5%
Attacks per Second:
1.25
Weapon Range:
13
Requires Level
33
,
80
Str,
37
Dex
(100–125)

% increased Physical Damage


(30–40)

% increased Rarity of Items found


+10

Life gained on Kill


15

% increased Movement Speed when on Full Life
Culling Strike
Hits can't be Evaded


(Culling Strike means enemies that are on 10% or lower life after your Hit are Killed)
Accept your fate, or lie, pretend.
Death collects you in the end.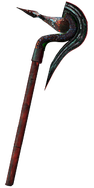 Delivery time: within 1 hour.



Reaper's Pursuit is an item in Path of Exile.
If you have any questions, ask us on 24/7 live chat!
We usually keep stock of Reaper's Pursuit.