Bows
Physical Damage:
11-34
Critical Strike Chance:
6.7%
Attacks per Second:
1.25
Requires Level
18
,
65
Dex
+(15–25)

% to Global Critical Strike Multiplier
(60–80)

% increased Physical Damage


(4–8)

% increased Attack Speed
Skills Chain

+1

times


30

% increased Projectile Speed


(20–40)

% increased Elemental Damage with Attack Skills
"Exiled to the sea; what a joke.
I'm more free than I've ever been."
- Captain Weylam "Rot-tooth" Roth of the Black Crest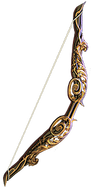 Delivery time: within 1 hour.



Roth's Reach is an item in Path of Exile.
If you have any questions, ask us on 24/7 live chat!
We usually keep stock of Roth's Reach.