Two Hand Axes
Physical Damage:
87-131
Critical Strike Chance:
5.7%
Attacks per Second:
1.35
Weapon Range:
13
Requires Level
62
,
140
Str,
86
Dex
(140–152)

% increased Physical Damage


(8–12)

% increased Attack Speed


2

% increased Area of Effect per 25 Rampage Kills
Gain a Frenzy Charge on every 50th Rampage Kill
Rampage


(You gain Rampage bonuses for Killing multiple Enemies in quick succession)
War is a thriving infection.
It numbs the heart and eats away at the soul
until only emptiness remains.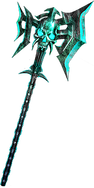 Delivery time: within 1 hour.



Sinvicta's Mettle is an item in Path of Exile.
If you have any questions, ask us on 24/7 live chat!
We usually keep stock of Sinvicta's Mettle.