Two Hand Axes
Physical Damage:
61-92
Critical Strike Chance:
5%
Attacks per Second:
1.3
Weapon Range:
13
Requires Level
45
,
99
Str,
57
Dex
(180–200)

% increased Physical Damage


+100

to maximum Life
Regenerate

20

Life per second


1

% of Physical Attack Damage Leeched as Life


50

% increased Mana Cost of Skills


50

% chance to cause Bleeding on Hit


(Leeched Life is recovered over time. Multiple Leeches can occur simultaneously, up to a maximum rate)




(Bleeding deals Physical Damage over time, based on the base Physical Damage of the Skill. Damage is higher while moving)
To cease the flow of blood is to
choke the rain in the very clouds.
Both life and land feel the thirst.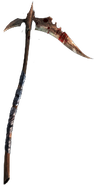 Delivery time: within 1 hour.



The Blood Reaper is an item in Path of Exile.
If you have any questions, ask us on 24/7 live chat!
We usually keep stock of The Blood Reaper.