Two Hand Maces
Physical Damage:
102-153
Critical Strike Chance:
5%
Attacks per Second:
1.1
Weapon Range:
13
Requires Level
65
,
212
Str
10

% increased Strength
Socketed Gems are Supported by Level

20

Endurance Charge on Melee Stun


+40

to Intelligence
Adds

(70–80)

to

(340–375)

Physical Damage


10

% increased Physical Damage per Endurance Charge


(20–30)

% reduced Enemy Stun Threshold with this Weapon


(The Stun Threshold determines how much Damage can Stun something)
The sea strikes the rock relentlessly.
Whether in one day or in ten thousand years,
eventually the rock will crumble,
and the Brine King's domain will grow.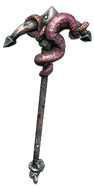 Delivery time: within 1 hour.



Tidebreaker is an item in Path of Exile.
If you have any questions, ask us on 24/7 live chat!
We usually keep stock of Tidebreaker.