Two Hand Maces
Physical Damage:
43-88
Critical Strike Chance:
5%
Attacks per Second:
1.25
Weapon Range:
13
Requires Level
40
,
131
Str
30

% increased Stun Duration on Enemies
50

% reduced Attack Speed
All Attacks with this Weapon are Critical Strikes
"Though ingenious instruments have been found,
it seems surgery before thaumaturgy
was not so delicate."
- Icius Perandus, Antiquities Collection, Item 3546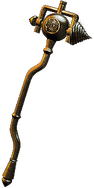 Delivery time: within 1 hour.



Trypanon is an item in Path of Exile.
If you have any questions, ask us on 24/7 live chat!
We usually keep stock of Trypanon.