Two Hand Swords
Physical Damage:
62-129
Critical Strike Chance:
5%
Attacks per Second:
1.35
Weapon Range:
13
Requires Level
67
,
113
Str,
113
Dex
30

% increased Elemental Damage with Attack Skills
(30–60)

% increased Physical Damage


(5–8)

% increased Attack Speed


+(90–100)

to maximum Life
Your Elemental Damage can Shock
Gain

300

% of Weapon Physical Damage as Extra Damage of a random Element


20

% increased Area of Effect for Attacks
Deal no Non-Elemental Damage


(Shock increases Damage taken by up to 50%, depending on the amount of Lightning Damage in the hit, for 2 seconds)
A weapon born of nothingness,
can only create more nothingness.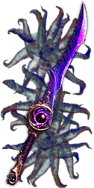 Delivery time: within 1 hour.



Voidforge is an item in Path of Exile.
If you have any questions, ask us on 24/7 live chat!
We usually keep stock of Voidforge.