Two Hand Maces
Physical Damage:
77-104
Critical Strike Chance:
5%
Attacks per Second:
1.25
Weapon Range:
13
Requires Level
54
,
173
Str
30

% increased Stun Duration on Enemies
150

% increased Physical Damage


50

% increased Attack Speed


(30–50)

% reduced Rarity of Items found


(30–50)

% reduced Experience gain


0.4

% of Physical Attack Damage Leeched as Mana


(Leeched Mana is recovered over time. Multiple Leeches can occur simultaneously, up to a maximum rate)
Cursed is the star whence it came.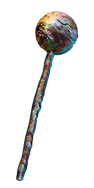 Delivery time: within 1 hour.



Voidhome is an item in Path of Exile.
If you have any questions, ask us on 24/7 live chat!
We usually keep stock of Voidhome.